Why choose us
Palazzo Siena
What you will and won't find at Palazzo Siena.

• You won't find high gates or sliding glass doors at the entrance, simply the ancient wooden door of the palace where you can ring the bell or knock, as you do when visiting a friend's house.

• You won't find a hotel parking lot. Instead, as though you were catching up with old friends in a small Italian village, you will have no problem parking on the street nearby and then walk a few metres to be welcomed at the palazzo.

• You will find friendly local people, greeting you, smiling and saying "buongiorno". They are proud to have visitors coming from all over the world.

• You won't find a receptionist wearing a suit and tie. Instead, Gilda and Mario will open the door and welcome you like old friends.

• You won't find a porter to transport your luggage to your room, but Mario will be pleased to help if you have a lot of bags.

• You won't find a bartender to pour your drinks. Instead, there is an honesty bar where you can serve yourself whenever you please, and note what you take in our guest book.

• You will find cats; a lot of cats, often quietly sleeping in the garden. Over the years the cat colony has grown as everyone loves them. Normally there are more cats than guests.

• When you go exploring the small village of Specchia Gallone, you will find only a bar and a grocery store. You will also find local people, chatting in the bar or stopping on the streets to speak about the weather, the wine and the olive harvest. Meanwhile restaurants, beaches and nearby towns are within easy reach by car.

• You won't find a waiter in the breakfast room asking for your room number. You will find Gilda the owner, who loves sharing her spectacular home with guests, getting to know them and making sure they enjoy every moment of their stay. Palazzo Siena wouldn't be the same without Gilda. Maybe it would be a regular hotel.

• You won't find the same atmosphere all day long, as you do in most hotels. Here the rhythm of life is gentle and the mood shifts as the day passes. On hot summer afternoons Palazzo Siena is very peaceful so guests can take a siesta if they want to.

• Unlike larger hotels, you won't be assigned a room based on the category you have booked. Every room and suite here is special and you will choose the one you prefer when you make your booking.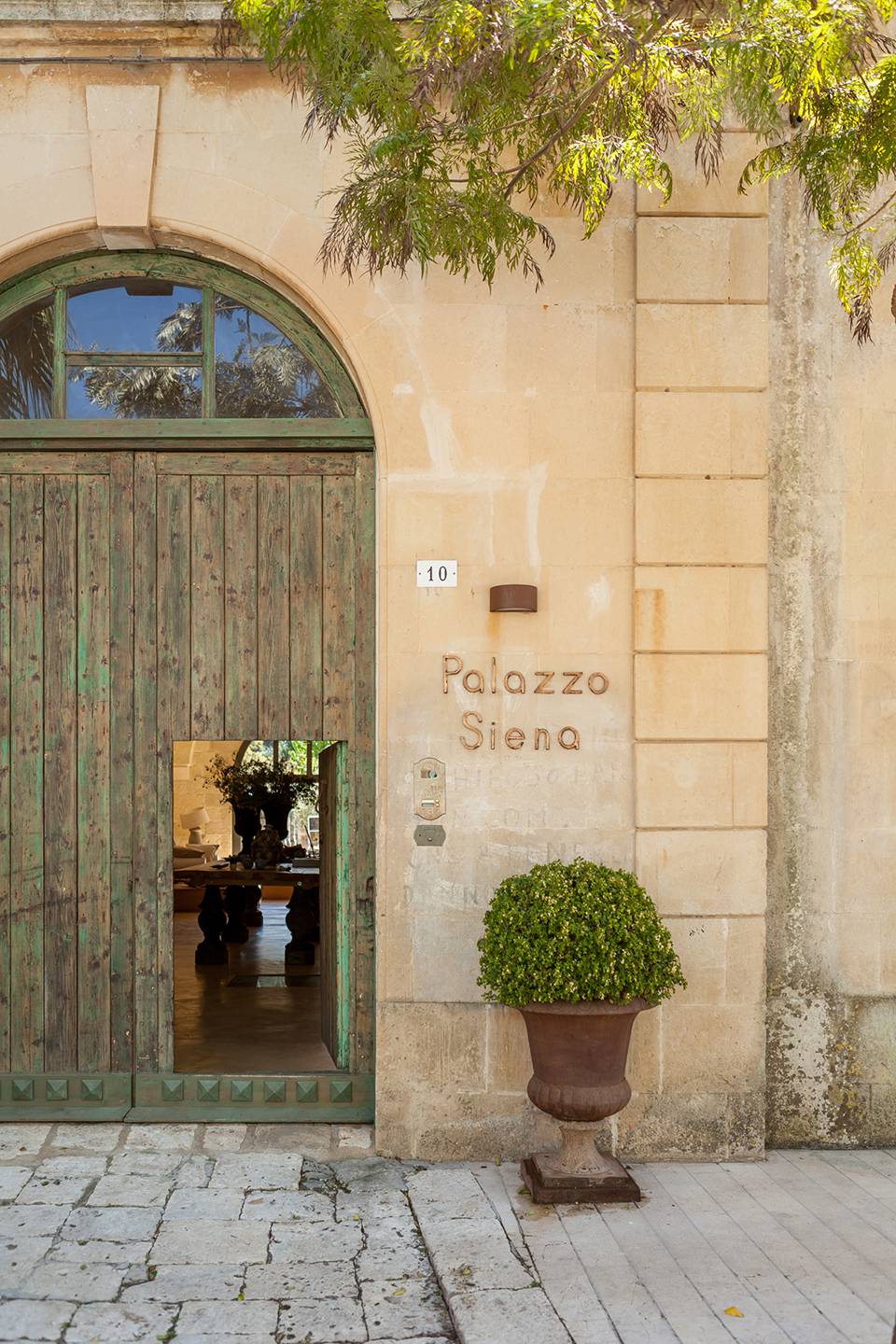 Our
Promise
• You will feel at home

• You will step back in time and live the slow, unhurried life of southern Italy

• You will relax and relax and relax. Although we always recommend that our guests visit the most beautiful places of the area, many choose to spend much of their time relaxing in the palazzo.

• You will feel as though you are staying in the home of a good friend and we will do everything to make sure you enjoy your stay. Hospitality is at the heart of the Puglian tradition.

• You will be sad when you leave and you will promise us to come back soon

• You will find the suites and rooms are beautiful renovated preserving the style and historic atmosphere of an 18th century Italian palazzo.

• We will provide you with a perfectly clean room, with soft linen, towels, and good quality essentials, just as we do when we host friends

• You will enjoy a simple and delicious breakfast prepared with fresh, local products, often picked from the organic vegetable garden at Palazzo Siena.

• You will be assured of the most stringent anti-Covid protocols. We take your health, as well as our own, very seriously

Palazzo Siena's history becomes richer and richer thank to every guest. Come and stay with us. Be part of its story
Discover suites & rooms